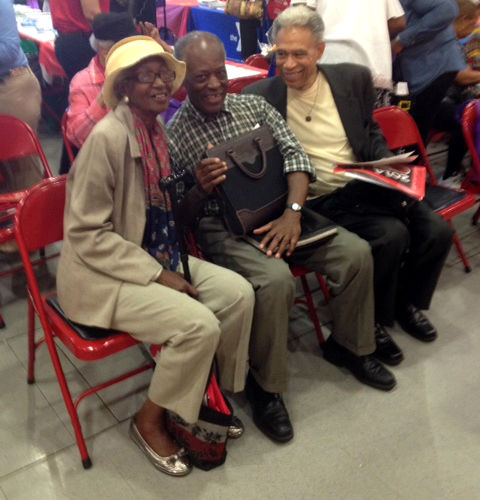 By Lil Nickelson
When my publisher asked if I was interested in covering the Harlem Week 2014's salute to seniors event I jumped at the chance to spend a day hanging out with my elders. I always learn a lot from interacting with our elders once they warm up to you. Senior Jubilee 2014 was held on Tuesday, August 5th at the Adam Clayton Powell Jr. State Office Building from 9:30 am to 3 pm and it was a full and interactive program. The day started with an indoor expo at the 2nd floor art gallery with healthy continental breakfast, health screenings, back massages, and multiple stations handing out information about how to maintain your health, finances, and civic responsibilities. I bought two stylish hats (at a discount) for cold weather seasons to come as well.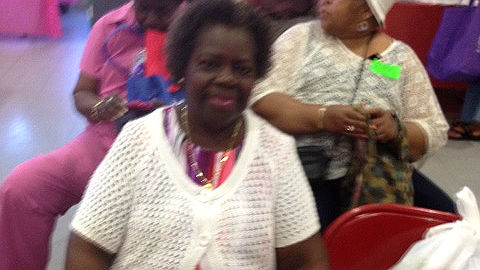 I had the pleasure of sitting in front of Ms. Olive Rogers (pictured above) who was celebrating her birthday. I asked Ms. Olive what advice would she give to a young person coming up today and she rattled off four pearls of wisdom:
Get your education,
Develop a better attitude,
Use your listening ear to learn and
Make sure to find a place for God in your life.
The by invitation only luncheon was held in the afternoon on the 3rd floor at Melba's 125 and the keynote speaker Herb Boyd and he spoke about the 50th anniversary of the 1964 Civil Right Act to many who were a part of the movement. Live entertainment was provided by Sammie Davis, "The Melody Man." Two long term Harlem residents, Mr. Ron Guy and LaZette McCants were honored for their community service and arts & cultural work within the community. Seven additional awards were given out to people who have distinguished their selves in education and public service.
Local politicians in attendance were Hon. Inez E. Dickens, Hon. Bill Perkins and Hon. Gale Brewer. On the outdoor plaza was the farmer's market from 10 am to 4 pm. I left the luncheon knowing I want to be like these seniors when I grow up.