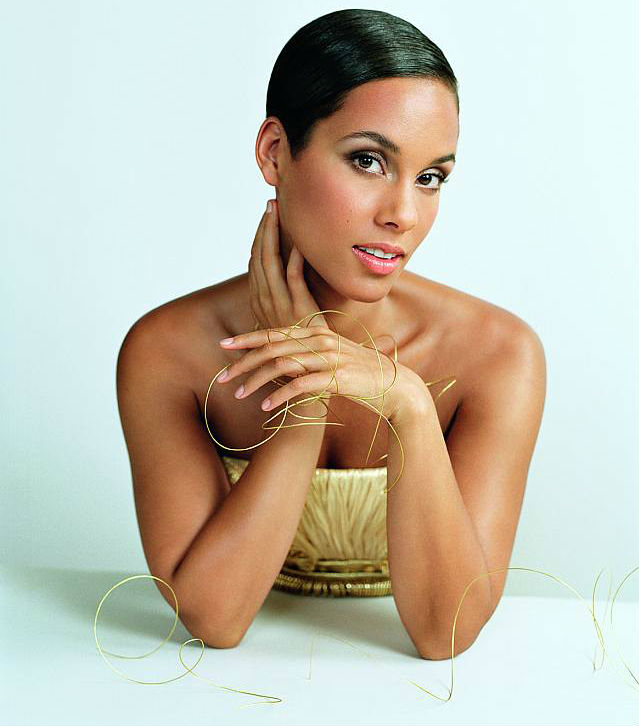 Alicia Keys was recently tapped as the face of Givenchy's new fragrance, Dahlia Divin, but don't ask her how to pronounce it.
'Dahlia Davin … Divine … Davin,' she ponders in a new video for Harper's Bazaar.
'Any one of the above is good. As long as you get the Dahlia part fine, and then you know that it's basically that you're divine and you're a beautiful, divine soul,' she says, proceeding to spritz Laura Brown, the magazine's executive editor.
'I'm more comfortable with who I am as a human being and so I'm more myself,' she says when asked what she likes to wear on the red carpet.
The singer clutches her Givenchy bulldog top as proof of her sartorial confidence, joking, 'Look, I'm more of the bulldog that I know I am.'
Since bursting onto the scene in 2001 with her acclaimed debut album, Songs in A Minor, Ms Keys's looks have ranged from edgy streetwear to polished glamour, and the star's recent fashion statements have been bold and sexy.
Ms Keys also talks about her recent collaboration with Givenchy Creative Director Riccardo Tisci, revealing that the pair first met through W magazine fashion director Edward Enninful.
'[Mr Enninful] said "You've got to meet my friend Riccardo – you're going to love him." And I did, because he's a really soulful guy,' she recalls.
'The Givenchy brand is really in sync with me – it's this mix of strength and sensuality and chic, and I love it,' she adds.
In June, the star offered similar praise for Mr Tisci, telling WWD: 'Spiritually we're a lot alike.'
The pair first worked together in 2011 on a project marking the tenth anniversary of Songs in A Minor, when Mr Tisci created costumes for four celebratory concerts.
This has been a busy summer for Ms Keys, both professionally and personally.
Last month, she announced that she is expecting her second child with husband Swizz Beatz, 35.
The couple are already parents to a son, three-year-old Egypt Daoud Dean.
Check out the commercial below:
What do you think about the campaign?