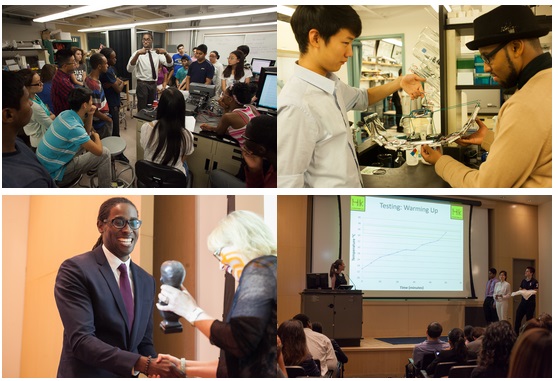 We received a great note from Christine Kovich, Co-Founder of Harlem Biospace and Executive Director of HYPOTHEkids. She gave us the breakdown on Harlem Biospace's K-12 STEM initiative HYPOTHEkids. 
As you can see from the images it has been a busy summer of providing students with immersive experiences in science and engineering.
Transitioning from summer and getting ready school is a challenge but CMOM has developed three programs to help families get back into the school swing. The two day festival will be filled with fun activities, outlined below.
Back-to-School Festival
The Hk Maker Lab, a six-week summer program for public high school students was held at Columbia University's Department of Biomedical Engineering, lead by Dr. Aaron Kyle. There, students learned intensive chemistry, electrical, and computer engineering skills in order to develop low-cost technologies geared towards solving some of the most pressing global health problems.  After just a month and a half of training, these are some of the solutions the students came up with towards solving global health issues:
Baby Jam: low-risk vacuum extraction solution for newborn delivery
Vitalight: LED-based illumination for rural hospital surgeries
Euphoria: water-based blanket warmer that automatically regulates babies' body heat
Magic Box: chemical mosquito trap that uses household materials
Neo Vest: light garment that measures a newborn's vital signs
H20 Glow: low-cost method of filtering water
Amazingly, the inventors and marketers for these revolutionary products are 25 students, primarily from New York City Title I high schools—some of whom had no hands-on scientific experience beyond dissecting a frog in biology class.
The program concluded with a pitch event with a panel of judges including representatives from NYCEDC, Cognizant (provided funding for the program through their Making the Future Grant), Google (a supporter of HYPOTHEkids), New Leaf Venture Partners (Harlem Biospace Advisory Board member), and tech pioneers. The winning teams, Vitalight and Euphoria, will be incubating their ideas further under mentorship at Harlem Biospace.   Dr. Kyle won the inaugural Harlem Biospace Tesla Prize for inspiring innovation, invention, tinkering and entrepreneurship.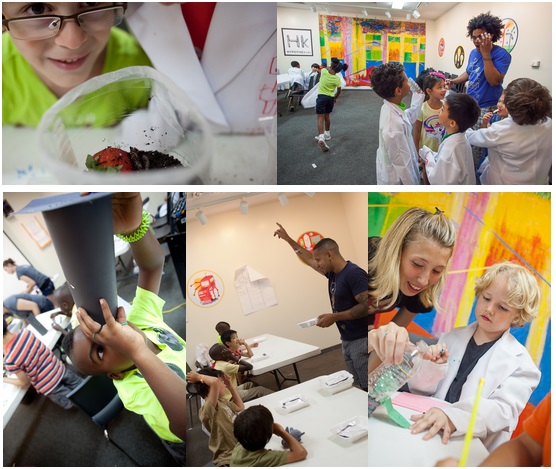 Just down the street in West Harlem, they ran an 8 week summer science enrichment program for K-5 students.  From chemistry, to molecular biology, exploring space, the brain, coding, the engineering of NYC and celebrating inventing, students were taught by practicing scientists and engineers and certified teachers with curriculum developed by the amazing co-founder of HYPOTHEkids, Erika Gillette. Through the generous support of the West Harlem Development Corporation, Pershing Square Foundation, the Harnisch Foundation and individual contributors, they provided over $33 000 in scholarships to students who could demonstrate need.
Join them for this upcoming year by 
supporting
 their programming and/or mentoring students.