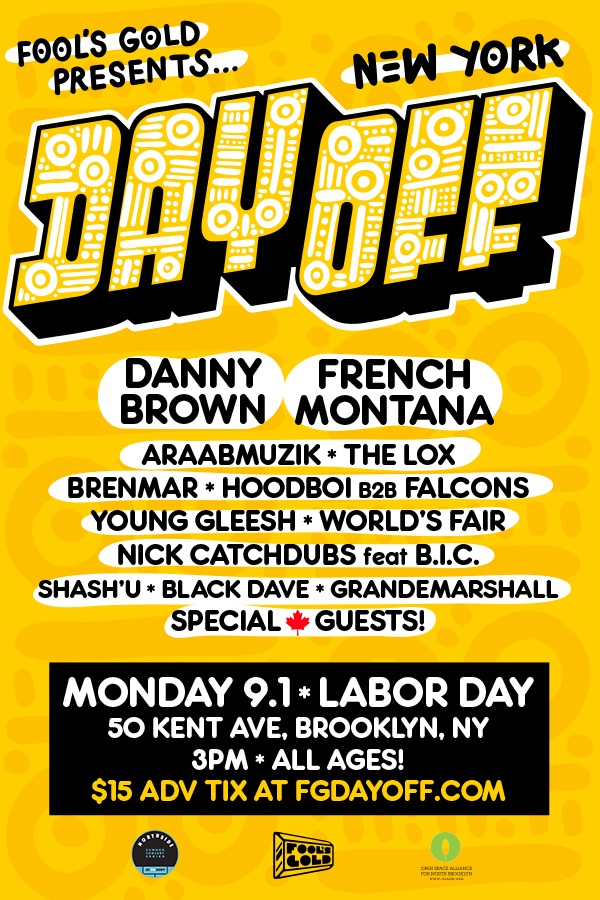 A-Trak to Lineup at Fool's Gold Day Off NY.
Surprise! — Fool's Gold OG and super producer-DJ-turntablist A-Trak has been added to the Williamsburg edition of Fool's Gold Day Off at 50 Kent on Monday.
A-Trak joins a lineup that already features:  Danny Brown, French Montana, AraabMuzik, The LOX, Benmar, Hoodboi B2B Falcons, Yung Gleesh, World's Fair, Nick Catchdubs (feat. B.I.C.), Shash'U, Black Dave, GrandeMarshall and more… so, yeah, it's going to be a really good day off.
For those of you just joining us, the bullet-point details:
What: Fool's Gold Day Off
When: Monday, September 1; doors open at 2pm, music starts at 3pm
Where: 50 Kent (Kent Ave. and North 12th St. in Williamsburg, Brooklyn)
How: Tickets are $20 ($30 day of). Buy Those Here!
How excited should you be? Very.
Part of the Northside Summer Concert Series at 50 Kent.