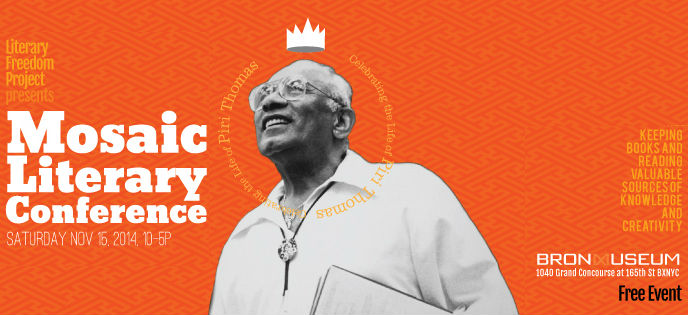 The Mosaic Literary Conference, now in its eighth year, is a great opportunity for teachers, students, program administrators, and parents to learn ways to blend books and reading into the lives of teenagers. MLC offers a mix of informative programs and creative workshops to engage young people, strengthen literacy, and develop education strategies.
11:00: Introduction
Conference introduction by Ron Kavanaugh, executive director of the Mosaic Literary Conference
11:15-12:45: The World of Piri Thomas Documentary Screening & Lesson Plan Discussion
Gordon Parks along with writer and poet, Piri Thomas, lead us on a journey through New York City's Spanish Harlem. Parks guides our eyes through El Barrio, while Thomas reads from his best-selling memoir, Down These Mean Streets.
Following the screening, educator Eisa Nefertari Ulen will discuss how the documentary's subject matter on Piri Thomas and Gordon Parks can be used to explore experiential learning that takes place outside the classroom. Q&A follows
The World of Piri Thomas, 1968, Gordon Parks (Director), B&W, Sound, 60 min., 16mm. (print from the Chicago Public Library Collection)
12:45-1:30: Panel: I Am Piri Thomas Workshop
Three "educators" will discuss how the author dealt with losing and regaining freedom, and the path created for and by Thomas to become an educator, poet, and writer.
1:30-2:15: Lunch & Museum tour
The Bronx Museum of the Arts will conduct a guided tour of it's exhibitions Beyond the Supersquare,Rethinking the Garden Casita, and Here I Am: Photographs by Lisa Leone
2:30-3:30: We Are Family Book Club Final 
In a public forum, participants and the facilitator of the We Are Family Book Club will assess Down These Mean Streets, and the impact of communal reading as a tool to enhance literacy.
3:30-4:30: Conversation & Reading
Poet Willie Perdomo and a special guest will discuss the life and literary impact of Piri Thomas and how poetry can be used in the classroom. Both quests will read poems by Piri Thomas as well as their personal work.
Want to attend click here.
Bronx Museum of the Arts
1040 Grand Concourse
at 165th St


Bronx

, 

NY

 10456
Saturday, November 15, 2014 from 11:00 AM to 5:00 PM (EST)