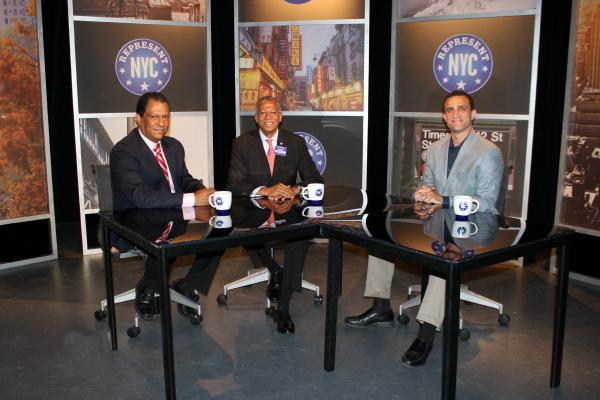 Manhattan Neighborhood Network (MNN), the borough's award-winning public-access TV station, is pleased to present "Represent NYC: Special Election Coverage," a series of three panels with State Democratic primary candidates, this Sunday, August 24 at 7:00 pm on MNN1.
The specials, each running 28 minutes or one hour, offer discussions with Democratic candidates in three Manhattan State Assembly and Senate districts, exploring their qualifications, legislative ideas and the key issues faced by residents of the borough. The pre-taped panels are presented in collaboration with the League of Women Voters of the City of New York and moderated by Ben Max, Executive Editor of Gotham Gazette, an award winning publication that covers New York policy and politics; and Marlene Peralta, Senior Political Reporter at renowned Spanish-language newspaper El Diario.
"Manhattan voters need better coverage of local district races, and better access to those running to represent them in office," says MNN Executive Director Dan Coughlin. "MNN has set out to fill a gap in the mainstream media's reporting, and to provide an unprecedented, hyperlocal examination of the issues affecting life in the borough."
"Represent NYC: Special Election Coverage" is timed to air on the three Sundays leading up to New York's September 9 primary election. The August 24, August 31 and September 7 cablecasts will present conversations with the candidates of Manhattan's State Assembly Districts 72 (Washington Heights, Inwood, Marble Hill) and 76 (part of the Upper East Side, Roosevelt Island), and State Senate District 31 (Upper West Side, Washington Heights, Inwood). Specific topics discussed include corruption in Albany, economic development, and renters' rights.
"Represent NYC" is a new weekly program that gives local elected officials and candidates the chance to update voters about the issues shaping the future of the city. The show evolved out of Race2Represent, a multimedia initiative MNN introduced last fall to provide quality, uncensored, hyperlocal information about candidates running for Manhattan City Council seats and the Borough President's Office.
"Represent NYC: Special Election Coverage" premieres Sunday, August 24 at 7:00 pm on MNN1 (TWC 34, RCN 82, FiOS 33) and MNN.org. The series will repeat on several dates through September 9; check MNN.org/representnyc for details.
Founded in 1992, MNN is New York City's free public-access cable network. Operating four channels (Community, Lifestyle, Spirit, and Culture) and reaching 620,000 cable subscribers in the Manhattan area, MNN is the largest public-access cable network in the nation, with programs airing in more than 40 languages. Find MNN on Twitter, Facebook, YouTube, Vimeo and at MNN.org.